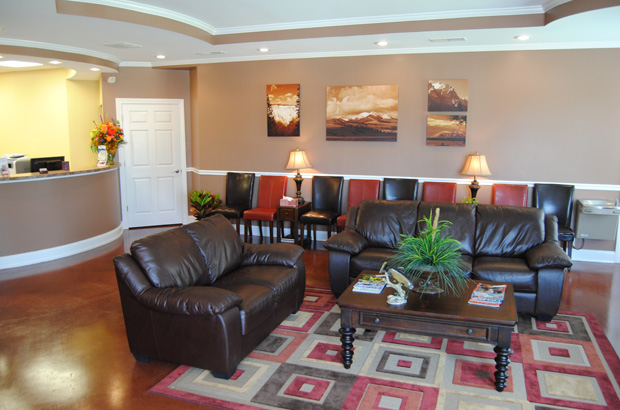 Dental Services
We offer comfortable family and cosmetic dentistry for West Memphis and the surrounding communities. We provide a wide variety of services and our dedicated dental professionals provide the best and most reliable care for all of your cosmetic and preventative dental needs. Please learn more about the
Rhoads Staff
and call
870-735-3915
to schedule an appointment today.
Bonding
Bonding is a procedure which involves a tooth colored material called composite resin. The resin comes in different shades that best match your tooth color. Bonding can be used to solve many problems such as decay, discoloration, gaps between teeth, deformed teeth, and chipped teeth, along with many other dental concerns. Composite fillings that are too large are more susceptible to chipping and staining. Both the location and size of the bonded filling can be determining factors in whether this is the right restoration for you.
Crowns
A crown is a restoration that covers the entire tooth and is also commonly known as a "cap". Many times a tooth that has significant decay cannot be restored with a bonded filling due to the amount of damage that has been caused. If tooth structure has been compromised then a full coverage restoration is required. Crowns are usually porcelain and, with a color match to the natural teeth, can be nearly perfect with today's materials. However, metal such as gold is an option on back teeth. A crown has many other uses such as covering cracked teeth to prevent further damage, restoring a tooth that has had a root canal, attaching to bridges as an anchoring tooth, or covering implants. Furthermore, crowns can be a great choice to restore front teeth that are of cosmetic concern. Crowns have the longest life expectancy of all restorations; however, without proper hygiene and routine dental visits their life span can be shortened.
Veneers
Porcelain veneers are a restoration typically used on the upper or lower front teeth to correct problems of cosmetic concern. These thin porcelain laminates are used to solve problems such as correcting spacing, masking discolored or stained teeth, hiding enamel defects, or even correcting crooked or misaligned teeth. Porcelain veneers offer unsurpassed esthetics and color matching while providing minimal tooth structure removal.
Bridges
Bridges are a restoration that is a combination of crowns joined together to replace missing teeth. The crowns attached to the anchoring teeth are called abutments and the missing teeth to be replaced are called pontics. Bridges are typically porcelain colored, but can be metal if desired. Replacing missing teeth will help maintain a proper bite relationship while preventing unwanted shifting of neighboring teeth. Bridges are cemented in and are not removable. Proper oral hygiene is imperative for good gingival health and long term success of this restoration.
Teeth Whitening
Teeth whitening is a procedure commonly known as "bleaching". Several over–the-counter products are sold today to change the color of teeth. Some products may be effective in making teeth somewhat whiter, but contain abrasive particles that could be damaging to your teeth. These products can also take a very long time to obtain the results that you desire.

Bleaching can be a quick and effective way to solve the cosmetic problem of discoloration. Our professional, in office, whitening treatment can be done in approximately one hour. Just sit back, relax, watch a movie from our selection and let us do the rest. Our bleaching system is considered to be the safest and most effective method offered.

Another bleaching method is a system involving custom made trays that are used by the patient at home. Although results can be seen in as little as 3-5 days, typically it takes approximately 2-3 weeks to get the full desired results. Ask the doctor which method is best for you.
Dentures and Partials
Dentures can be a solution for replacing all of your natural teeth, while partials replace some of your teeth. Both are removable appliances that are worn to aid in esthetics and function. Although they will never feel like your real teeth, today's dentures and partials can look and feel very natural. Smiles are like fingerprints, no two are exactly the same. Therefore, we personalize all of our dentures to conform to the size of your face while complementing your eyes and skin. We offer several different styles of dentures, starting as low as $299. Nonetheless, all of our dentures and partials are custom made in a dental laboratory located in the USA.
Root Canals
A root canal is a procedure which involves the removal of the nerve from inside the tooth. Conditions requiring removal of the nerve (pulp) may include: severe decay that has reached the pulp, trauma from an accident or fall, a dead or discolored tooth, or an abscess. After the nerve is removed from the tooth, a material called gutta percha is packed in its place and a crown is placed for the final restoration. If it is decided by the patient that a root canal is unwanted, then extraction of the tooth is the only alternative treatment.